What They Say
Reviews of Edenwood Hand Crafted Wooden Canoe Paddles
Customer satisfaction is very important to us and when we get feedback like this….
'Just a quick note to let you know I've been working out with the SUP paddle pretty much every weekend for a few months now and it's become one of my favourite possessions. It's a joy to use and a beautiful piece of
kit – really fantastic!'
The paddle came Saturday and we went paddling the "Hamme" on Sunday. I was afraid to put the paddle in the water, because it looks so beautiful. My wife said, "but that's what it's meant for". She is right!
"Tim. We have been caressing the paddles with out pause since opening the package. They are beautiful. They are seductively smooth. We had a stand up paddler friend over for dinner last night and had to forcefully remove a paddle from his hands when he was leaving.  The are perfect thank you."
"The paddle arrived today.  Looks and feels great and I'm sure it will paddle as beautifully as its twin you made me a while ago.  I'm looking forward to trying it out."
'Hi Tim, I received the paddle this morning. Awesome work. I am really pleased with it. Thank you very much. Can't wait to try it out.'
'Paddle has arrived – what a thing of beauty! Magnificent! We are both delighted with it. I have no doubt that once I have saved the £ you will be getting another order for one for me.
Many thanks again for meeting our timeline and for your skill in crafting such a glorious paddle.'
'It is a thing of absolute beauty, perfect balance, lovely finish and the colour is simply stunning.  Thank you very much, I can't wait to try it out.'
Hi Tim, I'm just back from my first trip out with my new cherry Voyager: A real pleasure, I love it!!! It has a very nice feeling, soft, precise, quiet, very easy to paddle. The Indian stroke came naturally with this paddle in my hands. It's also very light.
"Hi Tim, Paddle arrived safe and sound today. It's perhaps even more gorgeous than I thought it would be. It feels amazing. Hopefully get out to paddle it before too long. Thanks again."
"It is indeed a thing of beauty. I'm not sure whether to paddle with it or hang it on the wall so my wife suggests that I do both. Henceforth it will hang in the "man cave" between canoe trips so I can admire it whilst it's lesser cousins reside in the garage with the canoe. Again, many thanks Tim"
"We have now tested the paddles both tandem and solo and I must say they are a delight to paddle. Slices the water well, have a nice grip and flex. We are very satisfied and will recommend you strongly to friends thinking about trading up a paddle."
"I wanted to email you to thank you for your craftsmanship. The paddle is beautiful, I got to use it last Friday and what a joy it was use. The wood is gorgeous and the paddle is so light, the tip has been so delicately added; it is a work of art. In the water it is just divine, it slices through effortlessly and silently. So, in conclusion, I love it! Thank you so much. "
"The paddles got their first taste of Swedish water yesterday. They work really great! The combination of the Northwoods in the stern and the voyageur in the bow is exactly what we needed. Very comfortable paddling even against a pretty stiff head wind. The elongated grip on the Northwoods gives lots of space for adjusting the grip span to changing circumstances. It was a "where have you been all my life" experience. My wife really likes her voyageur, too. It is light and does the paddling work of the old white water paddle but with much less effort."
"Hi Tim, Tried out the new paddle and I'm delighted with it. A great feel and so beautiful with superb workmanship."
"I used my new Cherrywood Otter tail extensively for the first time during my recent, four day trip down the River Spey from Newtonmore to Spey Bay. I am very happy with the paddle it is one of the best I have ever used and was the preferred paddle for the entire trip. It feels extremely comfortable, it is light and has plenty of power. I love the softness and feel of the wood. Thank you !"
"Just to let you know Mark was given his new Paddle yesterday, he was absolutely thrilled with it, and is off today to give it a go. I have to say it was stunning, and the inscription symbol was perfect.Thanks again you have been brilliant." Mark posted this blog on Song of the Paddle – here
"I've use the voyageur now for two days pretty much for six hours solidly per day, and quite honestly, I can say that it is by far and away the best paddle that I have ever used"
"Firstly, I just wanted to say how great it was to try out the new paddles over the weekend. Secondly, I think they are well worth keeping safe, so I was wondering if you have one of the Frost River double paddle bags available?"
"Just to let you know my new paddle is BEYOND AWESOME! It has just been on its first trip… to the Fairy Islands. It is exactly how I hoped it would be. Thank you!"
"Just wanted to drop you a line a say a big thank you. My paddle is a thing of beauty. It is without doubt one of my favorite possessions."
Hi Tim, Just to let you know – my paddle has arrived this morning… looks very nice! Can't wait to try it out! Thanks v. much, lovely workmanship…
We recently sent a paddle to Genève, Switzerland
"I Just received my so so beautiful paddle (Walnut Maliseet).
Thank you a lot for this fine work, the wood is beautifully selected with marvellous patterns. She is very very nice.
I'll go canoeing next Saturday and I'll let you know about my impressions….
This early morning I paddled with my beautiful Maliseet
It was marvellous. It take me a little time to used to paddling with because it is quite different than the paddle I used.
It is very comfortable, very smooth. The wood is very soft in the hands.
I find it both fast, precise and reactive. It sound warm. I love it!"
"Hi Tim. Received paddle after returning from holiday. It's amazing – I'm delighted with it. You should be very proud to produce this. Thank you"
"Received the paddle today and I`m very pleased with it , its perfect , before going with this one I looked at other ottertail paddle`s available online and to me it is a cut above other`s I`ve seen and that includes anything made in America or Canada, the overall shape and finish is 1st rate."
"Hi Tim, My new Maliseet paddle is fantastic! I tested it out on a windy 4 Star training and assessment this week. All the candidates agreed the it was by far the best paddle It is really strong and punchy with just enough flex so you don't get worn out on long open water crossings. This is where wood beats carbon hands down in the wind! I am really looking forward to going up to Scotland in the spring to do AWE training now that I have the perfect paddle for paddling in force 4/5 Will send you some pictures"
"I have to say that the second to none 'customer first' service received in sorting out my fussy and exacting requirements was matched only by the jaw dropping quality and finish of the Ottertail cherry paddle that I received. It's simply beautiful to look at and velvet to the touch, aesthetic perfection and makes paddling a sheer joy.
"The paddle simply feels like an extension of me and has enhanced my ability and the whole canoeing experience. Tim has definitely won a customer for life."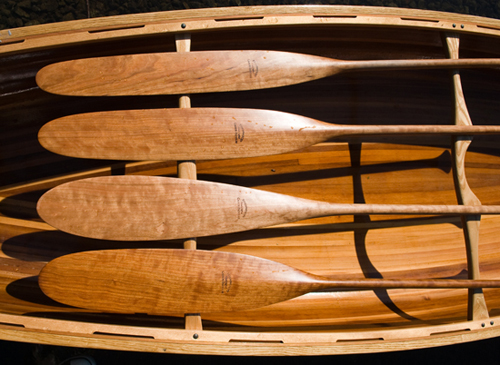 "Paddle arrived safely today – impressed with the packing! I'm delighted with the paddle, feels very well balanced, sizing is perfect, fits my hands just right! It is a beautiful piece of work too."
"I'm amazed at how you managed to combine super slicy-ness with a solid feel and perfect balance. The paddle enabled me to paddle all day without noticeably tiring. I lent it to quite a few people in the group and the feedback was universally very positive."
….we feel we are on the right track.