Ghillie Kettle Explorer 1ltr Hard Anodised Storm Kettle
£57.95 Free Postage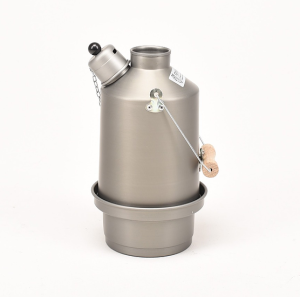 SKU: HA_EXP_01
The hard anodized aluminium provides all of the same great characteristics of a Ghillie Kettle with added protection and durability. In addition to being scratch resistant the kettle is easier to clean and has all of the benefits of stainless steel, but is cheaper and, importantly when camping, is much lighter. It also has a smooth non-stick, non-reactive surface and is quicker to boil, heat food and clean. The kettle is guaranteed for 10 years, subject to normal wear and tear Boil approximately 3.5 mugs of water in minutes
Lightweight 0.8kg
Holds up to 1.0ltrs
Height: 28cm / 11inchs
Width: 18.5cm / 7.3inchs (at its widest point)
Comes with its own hard wearing carry bag.
Ideal for ANY outdoor activity especially: Camping, Canoeing, Hiking, Fishing, etc
"HARD ANODIZING" EXPLAINED
The Result of Hard Anodising is that you get a thicker stronger coating which is approximately 2-4 times stronger than the normal Anodising process. It's as close as you can get to titanium while still using an easily machinable aluminum and stronger than stainless steel, with the added benefits of being lighter (a necessity when camping or travelling long distances) boiling water quicker and, importantly, unlike stainless steel, it won't rust!
All of our Anodised Kettles use the Hard Anodisation process, and the Ghillie Kettle company are proud to say that this is the most durable kettle to date.
£57.95 Free Postage  to UK mainland (The Highlands and Islands and overseas will cost extra. Email me for a shipping quote: tim@edenwoodpaddles.co.uk  )