This Edenwood knife has a stainless steel blade with a traditional scandi grind, a birdseye maple and walnut handle and a finely crafted leather sheath. It costs £130.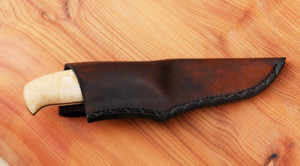 The blade is made from high quality stainless steel which needs less maintenance than carbon steel.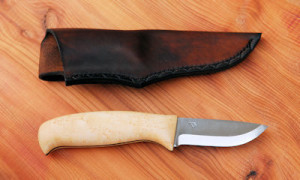 The handcrafted leather sheath is made by us and is styled and shaped to hold the knife securely especially when worn on a belt.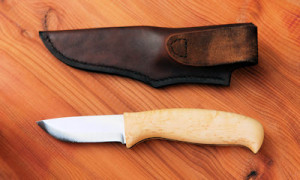 The handle is made from beautiful birdseye maple and walnut and is carefully shaped to fit the hand comfortably and securely, it has a beautiful silky smooth finish that is a real pleasure to hold.
Specifications:
Blade dimensions: Length 82mm, width 24mm, thickness 3mm
Steel: Stainless steel hardened to around HRC58
Handle: birdseye maple and walnut
£130 Free shipping to UK mainland, The Highlands and Islands and overseas will cost extra.
Payment can be by PayPal, card or bank transfer, send me an email at tim@edenwoodpaddles.co.uk and we can sort out the details.
You need to be over 18 to buy this item