The Old Chestnut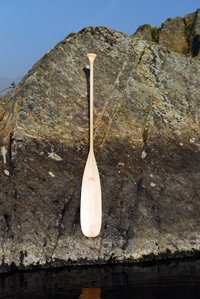 The Chestnut Canoe Company's catalogues showed two designs of paddle that were simply referred to as style A and style B. The Edenwood Maliseet canoe paddle is very similar to the 'style A' paddle and this, the 'Old Chestnut' is styled after the 'style B'.
While most of our paddle designs are intended for deep water, the Old Chestnut is an all rounder. It's shorter, wider blade allows it to be more effective in shallow water and when made from Maple which is the standard option for this paddle, it is tough and hard wearing. 
It shares the refinements of the rest of the Edenwood wooden canoe paddle range that ensure it is an outstanding performer, whether it be on river, lake, Loch or canal.
£170 + £15p&p
All Edenwood canoe paddles are hand crafted to order. If you would like more information, or to place an order, please see our contact and order information page.