The Northwoods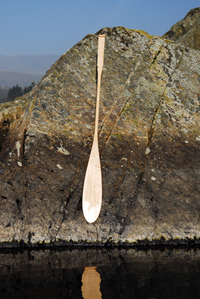 I've been making the Northwoods for a number of years as a special order for customers who have requested it. During that time I have made a number of refinements and I've decided that it is about time I listed it as an option on the website.
The blade borrows much from our Maliseet canoe paddle it has a defined spine that runs down the top third of the blade and the stylish roll top Northwoods grip feels comfortable when held in any position.
The overall design is inspired by a historic paddle found in Minnesota. Maple is the standard option for this paddle and although it usually weighs in at around 800-850g it feels light in use because the long grip acts as a counterbalance to the blade bringing the point of balance further up the shaft.
£170 + £15p&p
All Edenwood canoe paddles are hand crafted to order. If you would like more information, or to place an order, please see our contact and order information page.