The Little Otter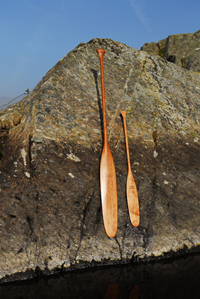 The Little Otter is a scaled down version of our full size Ottertail canoe paddle.
Originally designed for a customer who wanted a paddle for his young daughter to match his own Edenwood Ottertail. We were able to make both canoe paddles from the same piece of cherry and the result was two happy customers.
We are happy to make a junior version of any of our full size canoe paddle designs. Cherry will make a beautiful and light paddle, typically around 300g but Maple might be the best option if the paddle can be expected to withstand a lot of wear and tear.
From £60 + £12p&p
All Edenwood canoe paddles are hand crafted to order. If you would like more information, or to place an order, please see our contact and order information page.